Manage your sales
CRM, Track your leads, Make your quotes, Manage your invoicing in an integrated software!
Do you want to increase your sales and turnover?
Do not miss a single case anymore !
Nothing is more frustrating than losing a propsect and therefore a customer due to lack of follow-up. A CRM tool compiled with a sales management (estimate and order form), can remedy these possible omissions.

By using Odoo, manage your leads directly into the tool. You receive a business card at a networking ? Take a photo directly through the app MyOdoo and encode the different actions to be undertaken for this prospect, the tool will take care of reminding you all.
More than just a CRM : You have more than just a CRM by using Odoo and MyOdoo. Indeed beside to managing your contacts and prospects, you can set up the quotations and purchase the orders directly into the tool. Once the purchase order has been validated, you can directly generate an invoice, or an alert for the accounting department to indicate that the invoice can be sent.
The advantage of an integrated tool : All exchanges with the client are kept in the tool, so it is simple to work between departments in the same company. Write your quotes, set the terms of payment. Once validated, the billing department will take the lead on invoicing and tracking of payments. Naturally, you can be alerted in case of non-payment of your customer.
In summary, make your quotes, send them directly from the tool and get paid faster.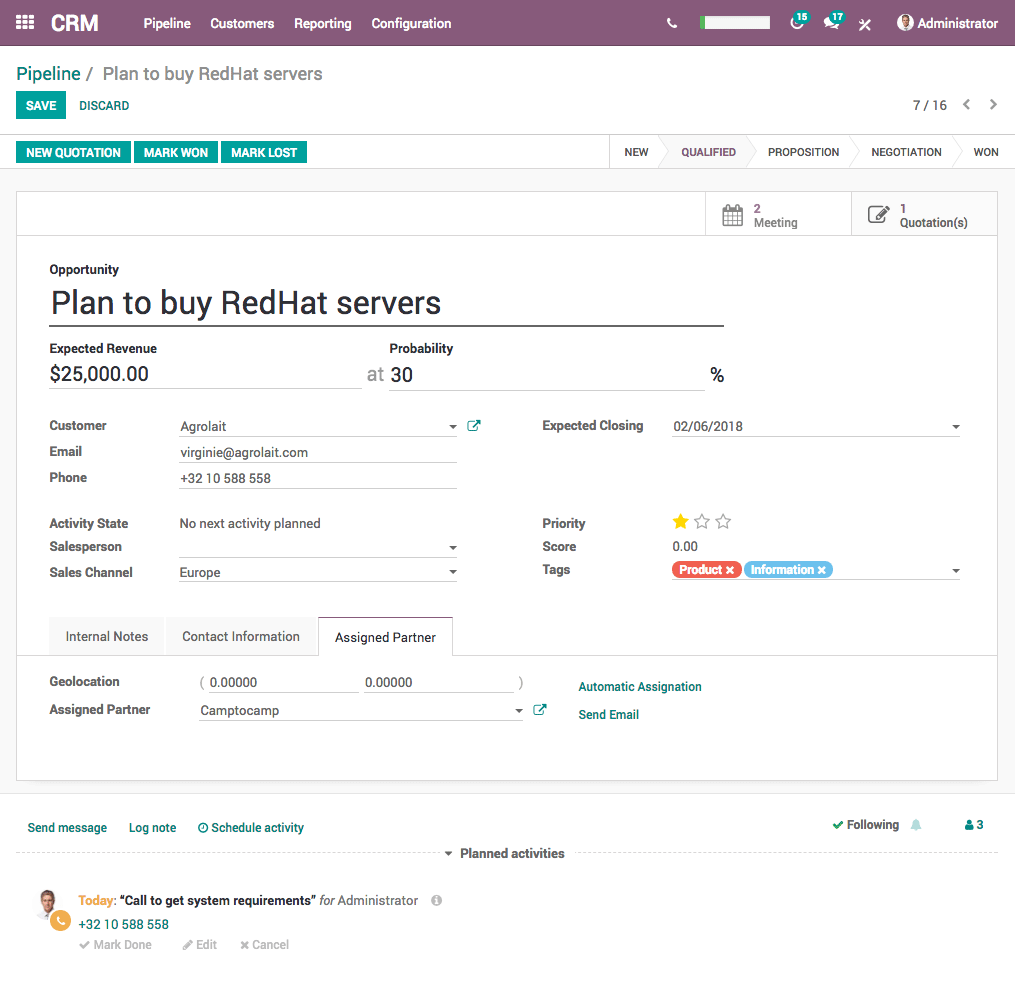 Plan your sales actions
Establish your sales pipeline, plan the next actions (call, email, reminder) and never miss a single sales opportunity again.
In a few clicks, manage your sales flow, write your quotes, validate your purchase orders in a single integrated tool.
Odoo Apps




Invoicing




Point of sale




Sales



Gmail for business










Ask for a personalized offer
We will be happy to answer you as soon as possible with a personalized offer.